Over the past few days, bullish pressure has been building for Bitcoin; all throughout the last two weeks, the cryptocurrency has been forming an uptrend, registering a consistent series of higher lows and higher highs.
On Apr. 6, this streak of strength culminated in an ongoing explosion higher for BTC, which just minutes ago forced Bitcoin to $7,450 — the highest price since the Mar. 12 crash. With this price action, the cryptocurrency is up 10 percent on the day — a stellar performance that comes as stocks, gold, and commodities saw similarly bullish moves higher.
Bitcoin price (Source: TradingView)
Data from Skew.com indicates that approximately $20 million worth of BitMEX short positions were liquidated amid this move higher.
What's next for Bitcoin?
Although still moving, analysts are growing increasingly bullish on the cryptocurrency, citing technical trends playing out for the asset.
Bloomberg wrote last week that Bitcoin's recent move higher has allowed it to trigger a "positive divergence and a buy signal," according to the indicator the DVAN Buying and Selling Pressure Gauge.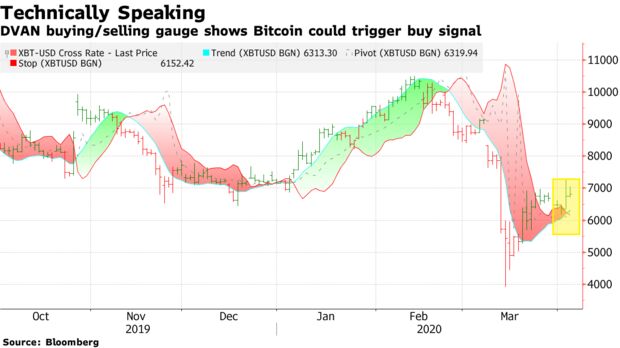 BTC last saw this trend in January, prior to the 50 percent surge from $7,000 to $10,500. The same indicator also flipped bearish when BTC fell under $10,000 in the middle of February, adding credence to the recent signal.
Furthermore, the recent rally has allowed Bitcoin to push the price at which it opened 2020, which means the cryptocurrency is finally positive on the year. Although seemingly irrelevant, many crypto traders have branded this occurrence "bullish." Indeed, 2017's yearly close of $13,800 marked the exact top of 2019's bull run.
Not to mention,