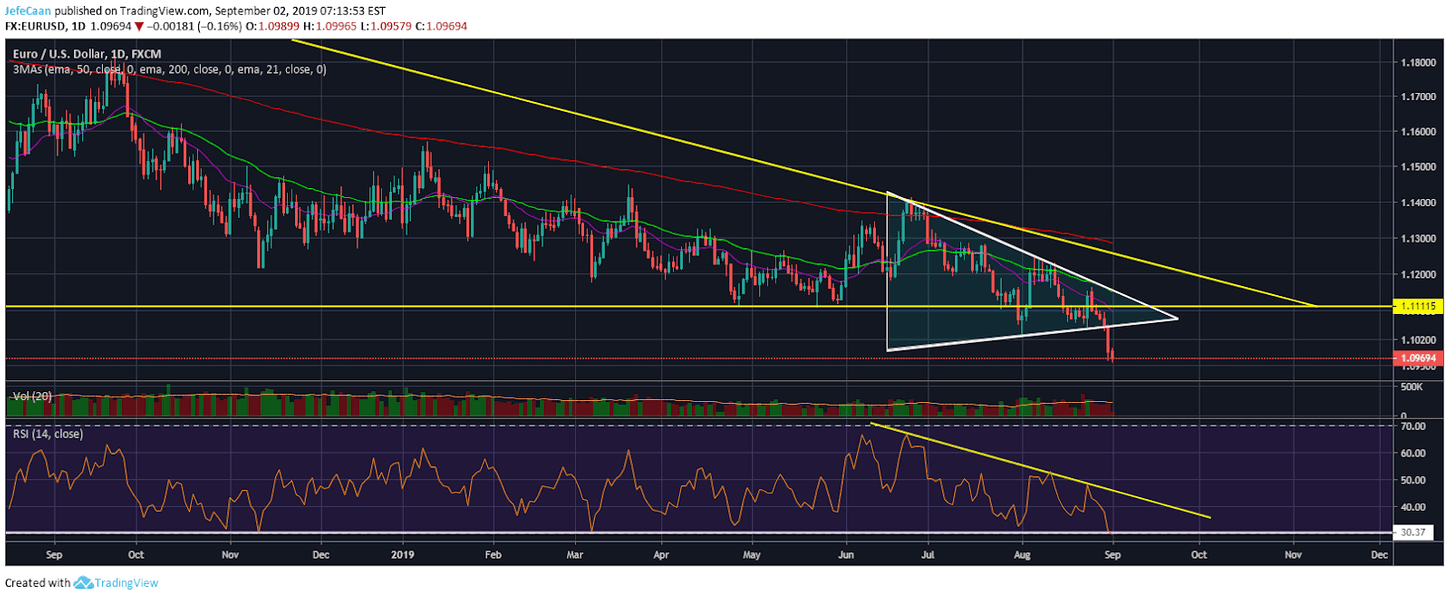 Breaking News / Bitcoin / Analytics
The Euro (EUR) has been showing signs of weakness and we have long expected it to begin its downtrend against the US Dollar (USD). For the past few months, it has been stalling a sharp move to the downside but last month it happened and EUR/USD declined aggressively not just below the descending triangle but also below the symmetrical triangle or pennant that we see on the daily chat for EUR/USD. It is important to note that EUR/USD is currently trading below the 21 EMA which is why it declined so aggressively below the pennant. I call the 21 EMA the accelerator EMA and any move above or below it is usually a sharp one. If we take a look at the RSI for EUR/USD on the daily chart, we can see that it has declined to a strong support. 
Most of the time this has happened, we have seen temporary further upside in EUR/USD. It happened during March, 2019 and November, 2018 and both of these times we saw a move to the upside before further downside ensued. In those cases, the pair tested the 50 day EMA which I think would be but hard to pull off this time. However, we could still see it test the bottom of the now broken symmetrical triangle or pennant. If something like that were to happen, we would see BTC/USD rise as well in dollar terms at least for short term. We have discussed the possibility of further upside in Bitcoin (BTC) and this scenario would support that. Before BTC/USD begins its downtrend, we have to see more of "new yearly high" and "to the moon" statements.