Bitcoin applications are being developed at a rapid pace such that interoperability with each other is manifesting itself. TonicPow is an ad platform built on top of Bitcoin SV (BSV). Developers can easily integrate Tonics into their site for the purposes of generating revenue from peer-to-peer advertisements. Recently from the Cambrian SV event, the team released TonicPow Offers.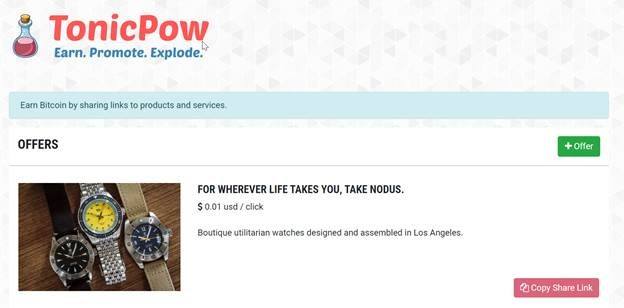 These offers are peer-to-peer (noticing a trend here?) opportunities for earning BSV from links shared across social media platforms. For example, if someone has a YouTube video they would like to share with the world, they could create an offer, providing various details and images to make the ad attractive. The user embeds a link to the video in the offer. Once funded with at least $1 of BSV, the creator can share their offer with others. At this point, we have nothing novel here as we are seemingly just creating a simple nice-looking ad.

Anyone who sees this offer can then click on and create their own shareable link. They specify their email and BSV address and they are good to go! Once they start shilling this link on social media, each person who clicks on this link earns the sharer 1 cent of Bitcoin SV. The TonicPow offer incentivizes others to share content they think is valuable by paying them directly via the clicks of others.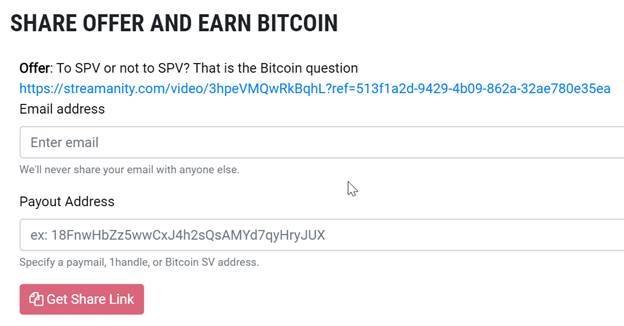 You can use Paymail, HandCash handles, RelayX handles or a traditional Bitcoin SV address for your payouts.
There is no incentive to create a bot to spam clicks since that would only drain the wallet of the creator of the offer. The one who clicks would only be doing so of their own interest vs.