Bitcoin is not going anywhere. The naysayers keep getting it wrong and the world's first and most valuable cryptocurrency continues to prove it has what it takes to hold up against even the worst negative speculation. The coin spent the first part of the summer breaking into the $10K+ range and continues to float there as the bulls appear to be putting up a good fight with the bears now in early September. While this battle plays out in the midst of US trade wars with China, a Federal Reserve that is now lowering the interest rate and is infinitely printing money, and many other global financial concerns looming, Bitcoin is quickly becoming the thing that many turn to as a safe haven in this age of uncertainty. And now, while Bitcoin still continues to challenge it's valuation, there are still great opportunities to get free or low-cost access to Bitcoin and other cryptocurrencies.
CloutBucks Gives $25 in Bitcoin For Signing Up, And Endless Opportunities To Earn For Taking Surveys, Downloading Apps, And Referring Friends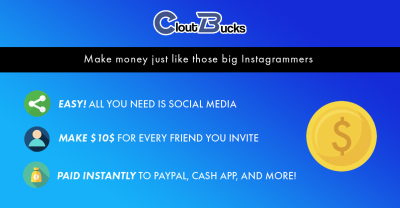 Whether you are just looking to get a quick $25 in Bitcoin or want to churn out as much as possible, CloutBucks is a new service that rewards you with $25 for joining their app, and $10 for each friend that signs up with your referral link. You get even more out of the service for doing tasks like uploading a youtube video promoting their service, downloading apps, taking surveys, and more. There is no minimum payout for getting your bitcoin (also CashApp, or PayPal) payments, and you can earn some serious crypto with your social network. Use my unique link here and you will get your $25 in Bitcoin just for signing up.