Payment and mobile financial service company Square reported 4Q earnings this evening, which included another record-breaking quarter of bitcoin purchase volumes with more than $178 million worth of bitcoin purchase volumes in the quarter. Square registered more than $516 million worth of sales in 2019.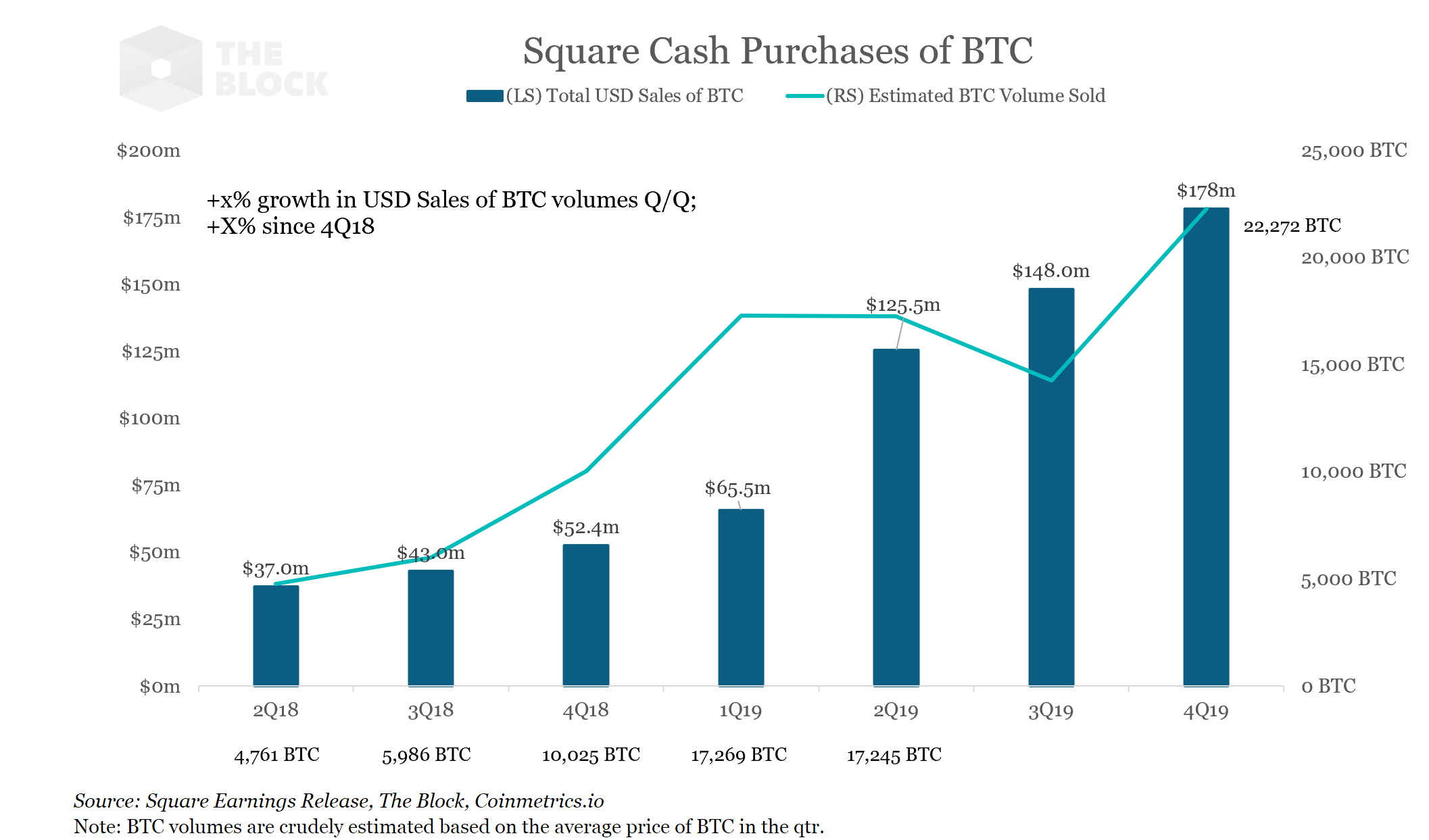 According to analysis by The Block with data from CryptoCompare, while bitcoin volumes still pale in comparison to larger U.S. retail crypto exchanges, the surge in bitcoin demand at Square actually grew at a larger clip than Coinbase (~40% decline Q/Q), Gemini (~60% decline Q/Q), and Kraken (10% growth Q/Q) in Q4. Square volumes were more inline with Binance U.S. which saw ~$250 million worth of bitcoin volume in 4Q.
The ability to purchase bitcoin is also but one of many features that have now been rolled into Cash App and aimed at providing greater financial access, most recently including the ability to purchase fractionalized shares of public companies.
The ability to cross-sell into other products, such as stock trading and traditional banking services, is something that other U.S. based pure retail crypto exchange apps like Coinbase are currently lacking. Square noted in its 3Q Investor Letter that the redesign of the Cash App to include shares trading had helped to drive approximately "double" the first-time Bitcoin buyers within Cash App within the 30 days following the redesign.
Dorsey has indicated on prior calls the firm is moving quickly to ensure "quality" for its customers, stating, "Bitcoin for us is not stopping at buying and selling, we do believe this is a transformation technology for our industry and gives people more access to the financial system, so we are going to have a learning mindset and ensure we are learning and leading the industry from here."