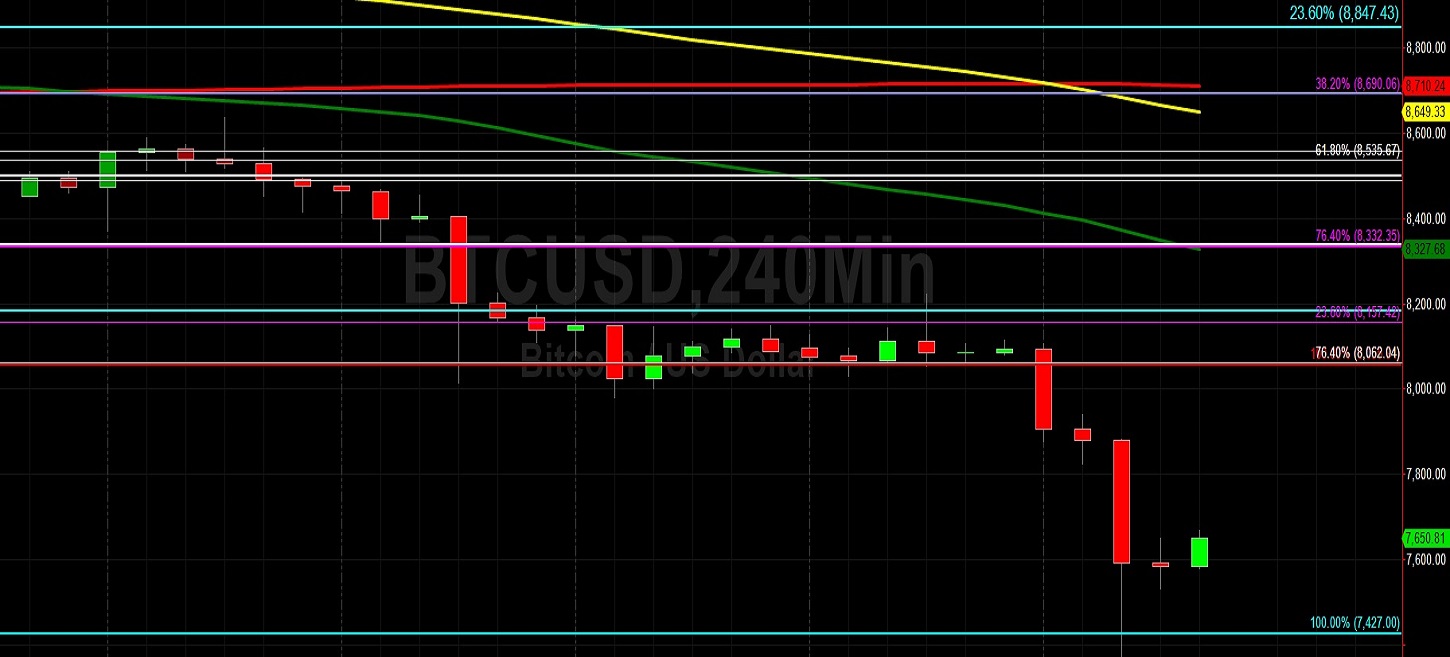 Ethereum / Breaking News / Bitcoin / Analytics
Bitcoin
Bitcoin (BTC/USD) was a little stronger early in today's Asian session after the pair traded as low as the 7374.50 area during yesterday's North American session.  Stops were elected below the 7427.00 area during the pair's move to November monthly lows.  Traders continue to observe the pair trading between some important long-term technical levels, namely the 8498.67 and 7231.40 areas which represent the 50% and 61.8% retracements of the move from 3128.89 to 13868.44.  A break of the 7231.40 area technically opens up the 5663.42 area, representing the 76.4% retracement of the same range. Likewise, a break of the 8498.67 area opens up the 9765.93 area, representing the 38.2% retracement of the same range.
Another important technical level is the 8184.23 area, representing the 61.8% retracement of the move from 4670.69 to 13868.44.  Below that area, the 6841.36 area is notable technical Support and above that area, the 9269.57 area represents the 50% retracement of the range.  Market technicians are noting that the 50-bar MA (4-hourly) is now converging with the 100-bar MA (4-hourly), a Bearish development that could lead to additional technical weakness.  Traders continue to eye the 7296.44 area as recent technical Support, with some buying pressure possible between the 7084 and 7235 levels if that level is breached.
Price activity is nearest the 50-bar MA (4-hourly) at 8,327.16 and the 50-bar MA (Hourly) at 7,964.30.
Technical Support is expected around 7343.17 / 7296.44/ 6810.00 with Stops expected below.
Technical Resistance is expected around 8062.04/ 8338.78/ 8535.67 with Stops expected above.
On 4-Hourly chart, SlowK is Bullishly above SlowD while MACD is Bearishly below MACDAverage.
On 60-minute chart,