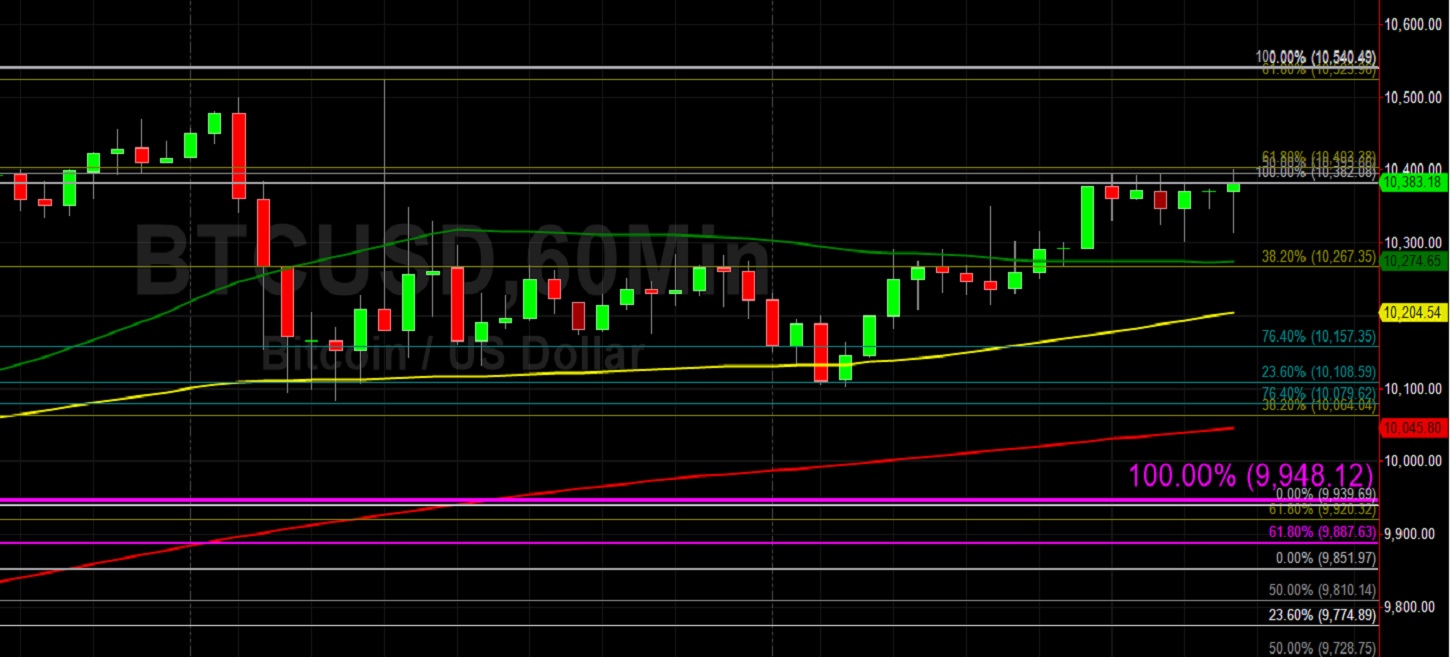 Ethereum / Breaking News / Bitcoin / Analytics
Bitcoin (BTC/USD) appreciated early in today's Asian session as the pair gained ground to the 10373.39 area after finding buying demand around the 10102.50 area during yesterday's European session.  The pair had earlier traded as high as the 10395.66 area before retreating during the North American session.  This intraday high was just below the 10397.09 area, an upside price objective that became technically relevant when bids emerged around 8880.87 level following upside pressure that lifted the market from the 6430.00 area.  Traders continue to evaluate the pair's recent upside progress within the context of important technical levels derived from important historic ranges.  Stops were elected above the 10149.22 area during the pair's recent move higher, a level that represents the 50% retracement of the depreciation from 13868.44 to 6430.00.  The next upside retracement level in that range is the 11,026.96 area.
 Another important level is the 10615.49 area, representing the 61.8% retracement of the move from 13202.63 to 6430.00, and traders anticipate some Stops above this area. Additionally, another important broader range that traders continue to monitor is the depreciation from 19891.99 to 3128.89.  The 38.2% retracement of this range is the 9532.39 area, and traders will see how much technical support emerges around this level during pullbacks lower.  The next upside retracement level in this range is the 11510.44 area.  Above current market activity, upside price objectives include the 10615.81 area, a level that gained technical significance when buying activity emerged around the 7723 area following previous bids around the 6430 level.  Additional upside levels include the 10722.86, 10839.22, and 10956.95 levels.
Price activity is nearest the 50-bar MA (4-hourly) at 10052.90 and the 50-bar MA (Hourly) at 10273.76.