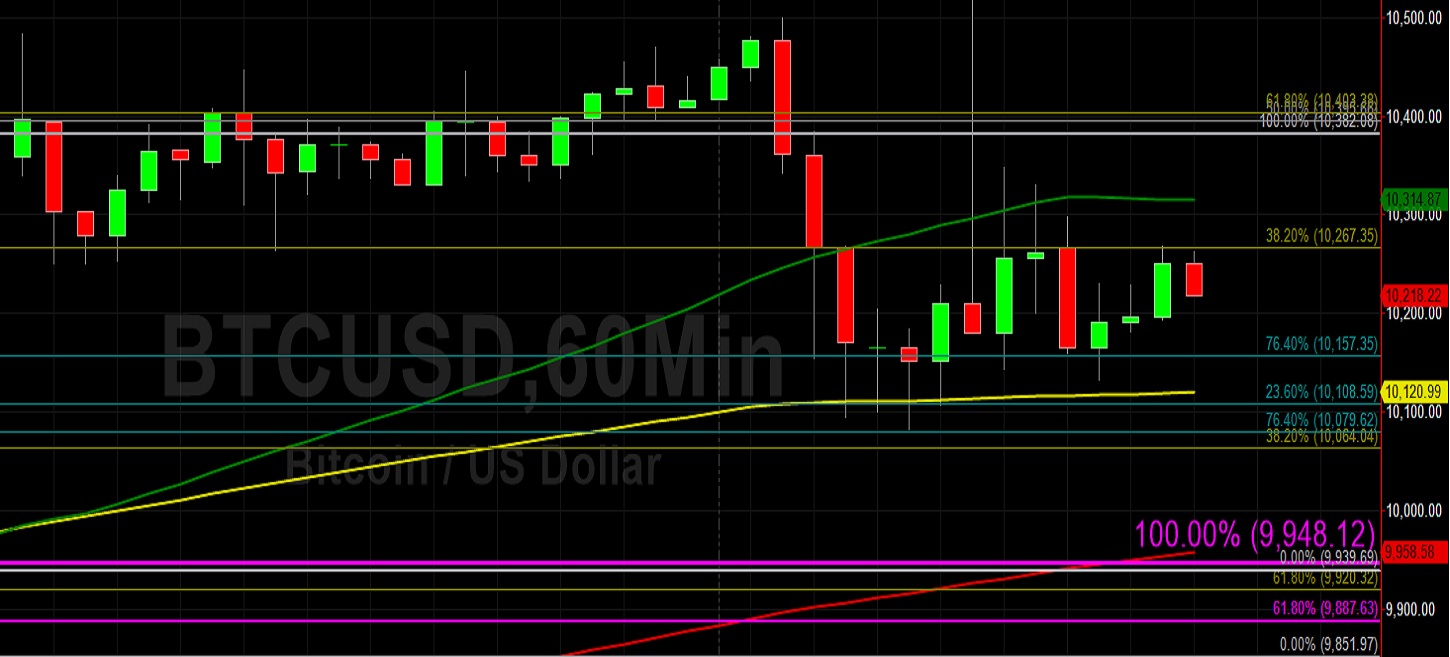 Ethereum / Breaking News / Bitcoin / Analytics
Bitcoin (BTC/USD) appreciated early in today's Asian session as the pair traded as high as the 10262.35 area after trading as low as the 10083.10 area during yesterday's European session.  Notably, the pair moved higher to test the 10522.51 area during yesterday's North American session, a fresh multi-month high.  After peaking around the psychologically-important 10500 level early in yesterday's European session, traders quickly booked profits and drove the pair lower to the 10083.10 level, testing the 100-bar MA (4-hourly) and just above the 10064.04 area that represents the 38.2% retracement of the depreciation from 13868.44 to 7712.45.  Traders are curious to see if the pair will be able to remain above the psychologically-important 10000 figure, and if BTC/USD bulls will have the fortitude to test the psychologically-important 11000 figure.
Chartists note that the pair continues to trade above the 50-bar MA (4-hourly), and are watching to see if the pair will be able to reclaim the 50-bar MA (hourly) following yesterday's early depreciation.  Traders are watching the 10513.53 area, an upside price objective that the market was briefly able to eclipse yesterday.  This area gained technical significance when buying demand emerged around the 9521.47 area during the pair's climb, adding on to the earlier demand around the 9078.05 area.  Above current market levels, traders cite upside price objectives around the 10545, 10615, 10652, 10698, and 10722 levels.
Price activity is nearest the 50-bar MA (4-hourly) at 9668.68 and the 50-bar MA (Hourly) at 10315.18.
Technical Support is expected around 9948.51/ 9757.64/ 9370.10 with Stops expected below.
Technical Resistance is expected around 10534.04/ 10652.04/ 10698.24 with Stops expected above.  
On 4-Hourly chart, SlowK is Bearishly below SlowD while MACD is Bearishly below MACDAverage.