There is no doubting that Tezos has been one of the best performing crypto assets over the past year. Following a recent all-time high, one prominent analyst has predicted a big pullback for XTZ.
Has Tezos Topped Out?
Tezos is currently the worst performing altcoin in the crypto top twenty today. This is hardly surprising though given the epic gains of over 140% this altcoin has made so far this year.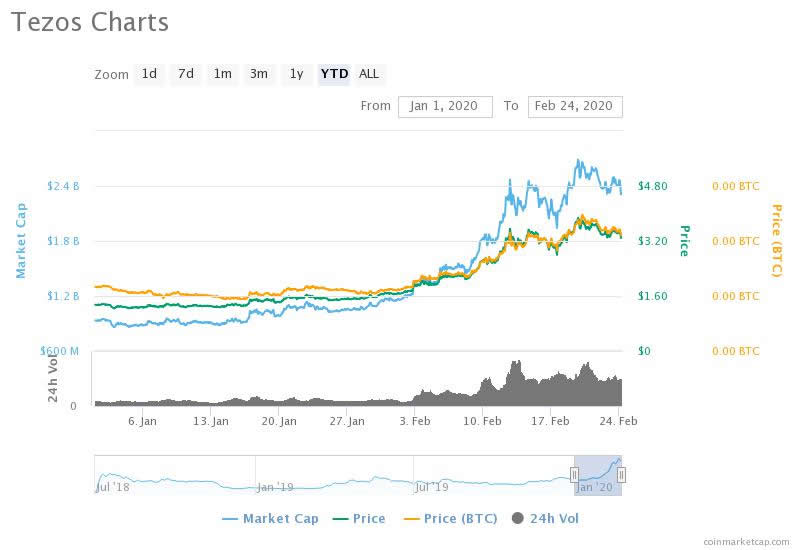 According to Coinmarketcap.com XTZ has slid 7% on the day from a high of $3.55 yesterday back to $3.30 during the morning's Asian trading session.
Since its all-time high late last week the crypto asset has corrected 15% and further losses could be on the cards, at least according to one prominent analyst.
Trader and chartist Josh Rager has pointed out that Tezos may have topped adding that there are not many supports on higher time frames but lower ones could offer good entry points.
"The thing about price discovery is you just don't know how far an asset can free-fall after big players take profit or if $BTC breaks down"
$XTZ – Tezos
The thing about price discovery is you just don't know how far an asset can free-fall after big players take profit or if $BTC breaks down
There aren't many supports on higher time frames for Tezos but lower time frames you can find horizontals to show entry points pic.twitter.com/aA2O7otvnS
— Josh Rager 📈 (@Josh_Rager) February 23, 2020
It Tezos were to dump hard in a market wide altcoin avalanche;