The S&P 500 (SPX) is likely to have topped out here. We saw it rally some more after our last call but it has now run into resistance on the pitchfork seen on the 2H chart. We can also spot bearish divergence on the RSI which indicates that the stock market may see the next downtrend begin in the days and weeks ahead. Major catalysts apart from the technicals could be Bernie Sander's New Hampshire win as well as growing concerns regarding the Coronavirus outbreak which have yet to factor into the market. The result would be a devastating blow to Bitcoin (BTC) and the rest of the cryptocurrency market as before. 

During the previous downtrends in the S&P 500 (SPX), we have seen similar moves in the cryptocurrency market. Also, we have observed how altcoins have shot up against Bitcoin (BTC) during most of such downtrends just before a major downtrend. At this point, for most of the major players in this market, it is about dumping their own coins on the retail traders. Bitcoin (BTC) is merely a tool to them to pump the market but altcoins are what they really want the average trader to not just buy but to hold on to it for dear life (HODL). This is an alarming development, one that will end in tears for most of such investors who hardly have any financial literacy or investing experience.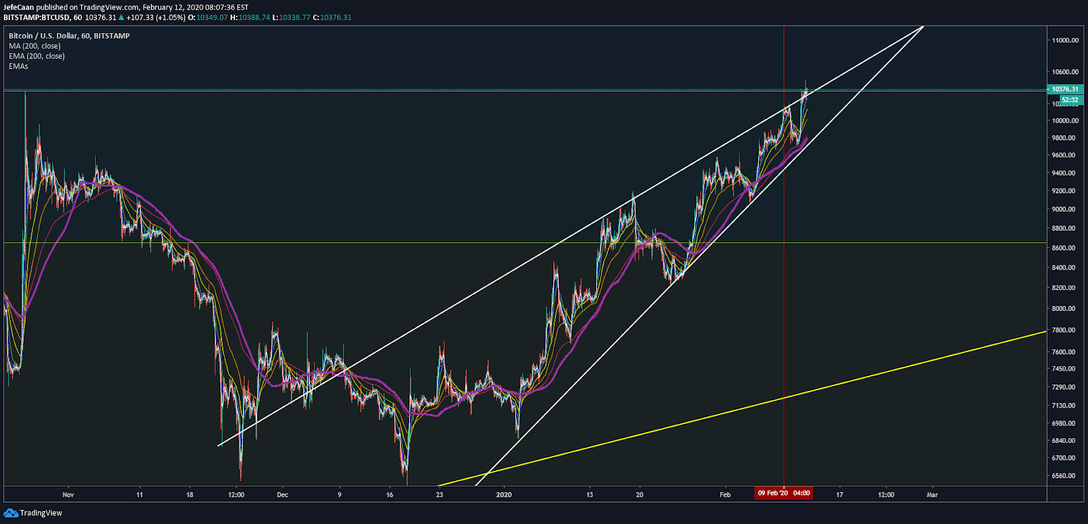 The 1H chart for BTC/USD shows that Bitcoin (BTC) has run into the key 61.8% fib retracement level from the previous top. It is currently trading around $10.3k but eyes significant further downside below the rising wedge. Historically, we have seen such wedges break to the downside.