Bitcoin (BTC) is at one of the most important decision points since the beginning of the year. The 4H chart for BTC/USD shows that Bitcoin (BTC) has been in an uptrend since the beginning of the year. However, that trend may be about to change as the price runs into a key fib circle. If we see a break below the 200-moving average after the price exits the circle, we could be looking at the beginning of a major trend change that could last throughout 2020 and probably longer. The economic outlook is not favorable and markets are just beginning to react to the impact of the Coronavirus on global trade. This could be a major reason why BTC/USD started to decline soon as Bitcoin CME Futures started trading after the weekend. 

Over the weekend, the Coronavirus situation aggravated in Italy and people rushed to the stores to stock in on food supplies. Pictures of empty shelves started circulating online. It appears that these fears are going to soon be priced into the stock markets across the globe. The outbreak not only threatens supply interruptions from China but it also poses a major risk to people getting out of their homes to go to work which will have serious implications worldwide. Most of the time, countries are too slow to react to such challenges but it is beginning to get clear that things may be about to get worse before they get any better. This is the first major outbreak outside of Asia and people in other countries are increasingly becoming more worried. We are seeing countries shut down borders with each other and cancel flights.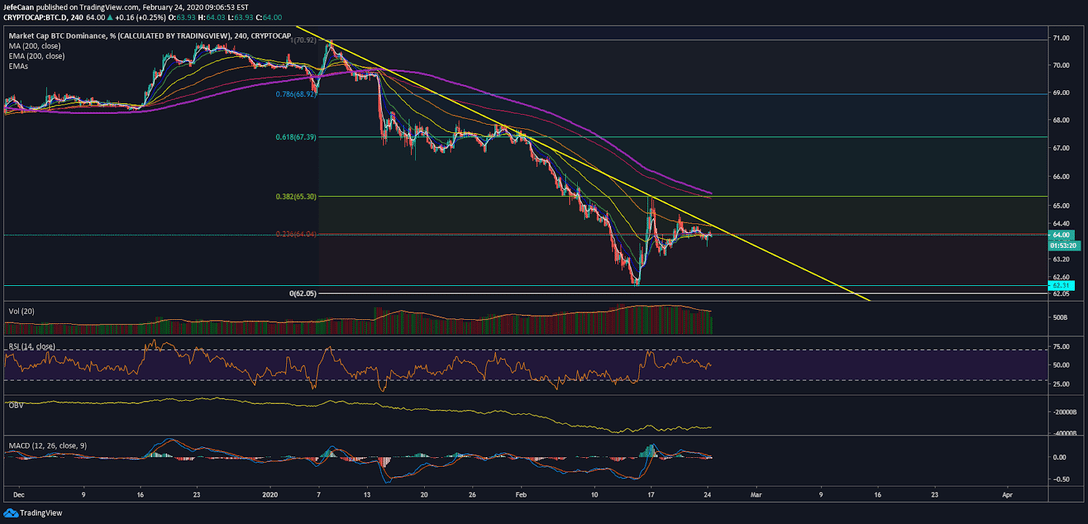 The 4H chart for Bitcoin dominance (BTC.D) shows that we might see a decisive move sometime in the near future.