What do you think money will look like in 10 years? You can already get a glimpse of the future by looking at cryptocurrencies. Cryptocurrencies are probably going to be considered one of the most important inventions of our century simply because they redefined how money is issued and stored. Cryptocurrencies have so many advantages, compared to fiat money, that governments already started developing and launching their own blockchain-based money. Of course, they do it for different reasons: governments like the traceability of blockchain. That's why soon we'll see a Chinese digital currency, issued by its central bank, with partial use of blockchain. 
Large companies also tap into blockchain technology. Just look at Facebook's Libra, the interest of Square in Bitcoin, the crypto experiments by Rakuten, and you'll understand that cryptocurrency and blockchain tech is becoming so global that it's possible that cryptocurrencies will be able to replace banks, or at least change them beyond recognition. In this article we're going to talk about the technologies replacing banking services right now, and how they're going to change the way we use money in the future.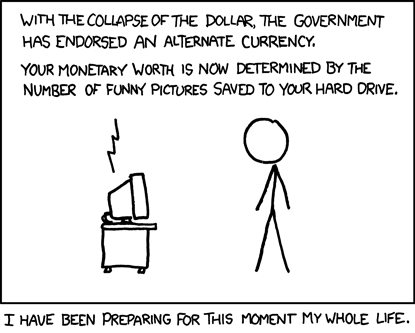 Source: xkcd.com
Cryptocurrency as a store of value
First of all, banks have always been the place where people store their money. It's safer than keeping money at home because every wealthy person who is careless is an easy target for burglars. Of course, banks could also be robbed as we have seen in countless Hollywood movies – but in the past few decades, these banks are becoming far more secure. Thus, any person making a deposit can be sure that robbers in masks won't steal his/her money one day. 
However, the role of masked robbers has surprisingly passed to banks themselves.