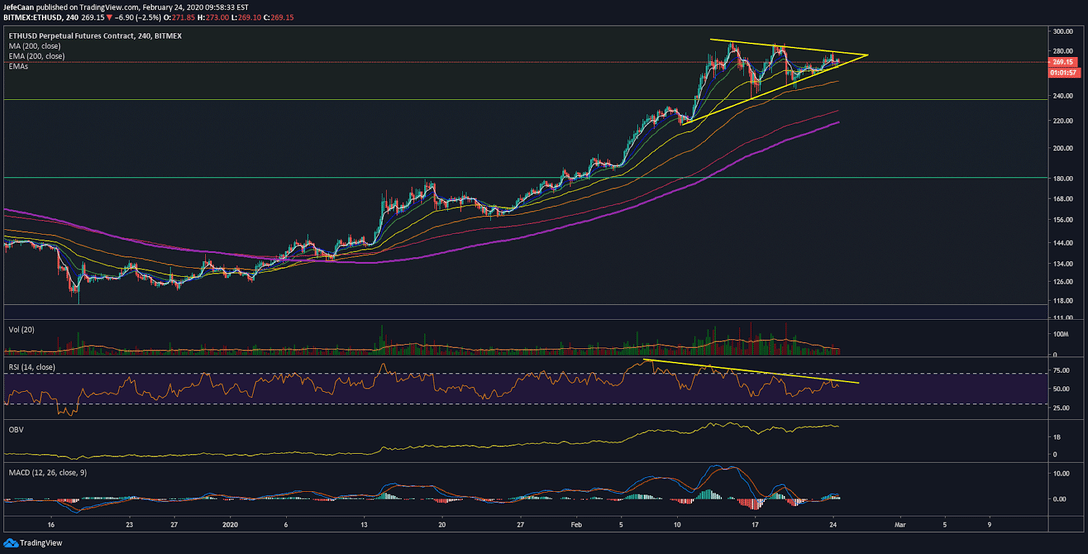 Ethereum / Breaking News / Analytics
Ethereum (ETH) bulls are losing momentum and the ascending triangle that Ethereum (ETH) seemed to be trading in has now turned into a symmetrical triangle. Furthermore, we can see on the 4H chart for ETH/USD that there is now a bearish divergence and it is only a matter of time before we see the price break out of the symmetrical triangle. The current outlook suggests that it might be a bearish breakout, one that could see the price decline to the 38.2% fib level and potentially much lower from there. The altcoin market might see a lot more pain compared to Bitcoin (BTC) if the cryptocurrency market catches up with the S&P 500 (SPX) and begins to decline more aggressively. 

So far, the reaction to the Coronavirus outbreak, a major catalyst that could move markets, had been limited to Asian markets. However, with the recent outbreak in Italy, we are now seeing the world react more seriously to it. This could be the catalyst that we have been looking at that might trigger the next major correction in the stock market. It is very reasonable to think that this is going to be even more brutal for altcoins like Ethereum (ETH). If investors are trying to get out of something like stocks that are backed by well established businesses, they are more likely to get out of something as volatile and risky as cryptocurrencies. The recent move that we see when BTC/USD started the week trading above $10k is the way the market makers and the whales operate to mislead retail traders while they dump on them.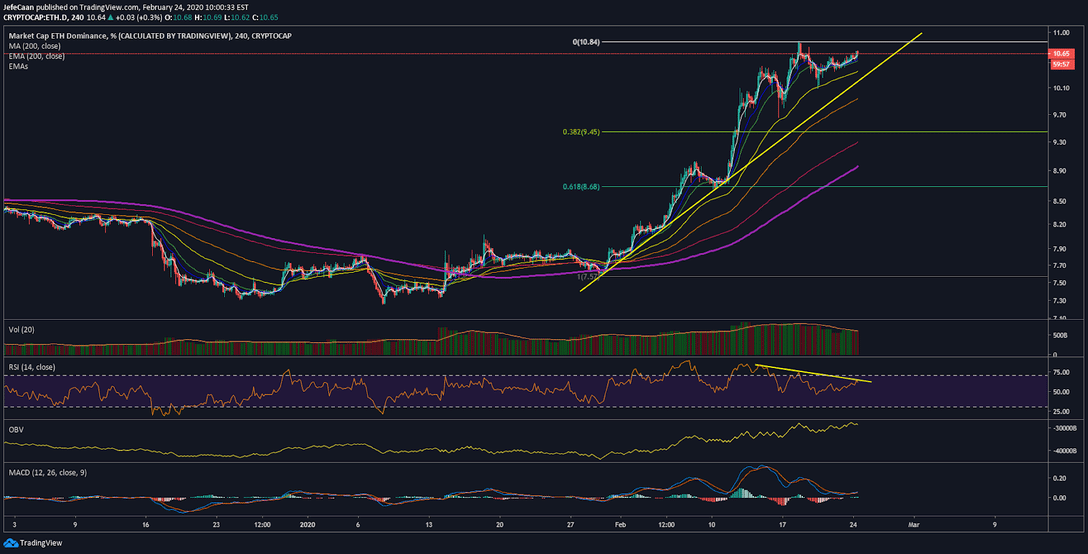 The 4H chart for Ethereum dominance (ETH.D) shows that there is good reason to think that Ethereum (ETH) may be about to head lower considering the manner in which its dominance has been surging the past month.