The first 3 months of the year are over, being a very chaotic period for financial markets  driven by fear, volatility and negative sentiment across the world. Just to have a reference of the crypto market during this period, Bitcoin plunged from $10,500 in mid-February to around $4,000 three weeks later. Since the end of March, we are starting to see positive news for the crypto market as a whole. It seems that there is more confidence from investors as we can see relevant gains for all the major cryptocurrencies. 
For today's article, the idea is to analyze the performance of Dash and what are the metrics driving its development as a relevant asset in the crypto market. Dash has been one of the highlights in the first months of the 2020 crypto market. The market dynamics of Dash seemed to have drastically shifted in the last few weeks. As of today (03/04), Dash is trading at $69.64 USD which represents a 62.5% YTD performance so far, standing out as one of the best performing crypto assets of the year.
Although the positive sentiment reached its peak on February 12 towards their YTD High mark of $133.51 USD, marking a remarkable ride for the year. Also, it is relevant to note that Dash has a market capitalization of $656 Million dollars with a strong daily trading volume ranking them as number 20 of most relevant crypto-assets.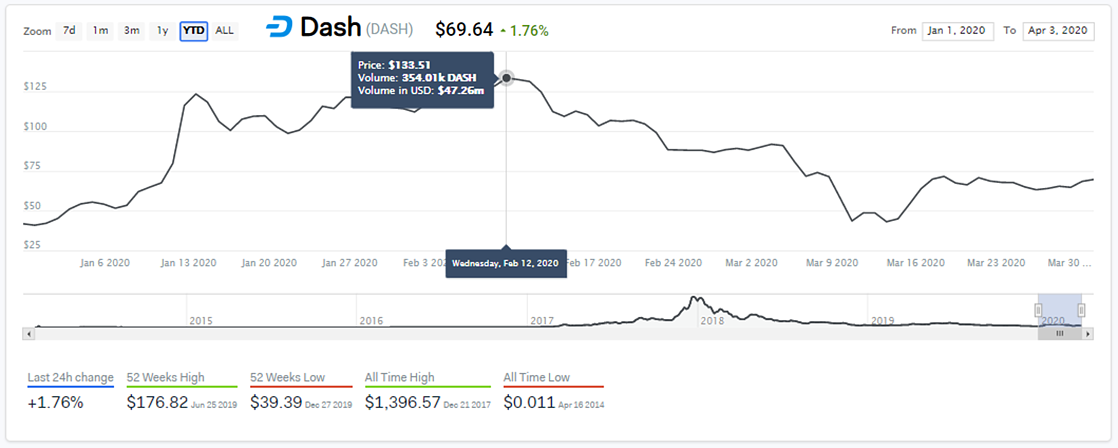 Dash usage has experienced decent growth since its inception. The cryptocurrency has a highly active community of users and is consistently adding nodes to its network. This cryptocurrency aims to become a medium for daily transactions that ensure users' privacy and anonymity. It has become highly popular mainly due to some quite interesting features like InstantSend,