Cryptocurrency derivatives exchange BitMEX is updating weights of its indices on Nov. 22 to ensure the reference prices more closely reflect the market consensus.
Announcing the news on Friday, BitMEX said the update will allow users to trade contracts on indices that are even more optimized for fairness, robustness and accuracy.
The biggest change appears to be including cryptocurrency exchange Huobi with a significant weight for most of its indices. BitMEX indices are composite, meaning they are calculated using data from several exchanges.
Currently, it uses data from 6 exchanges – Binance, Bitstamp, Bittrex, Coinbase, Kraken and Poloniex. On Nov. 22, it will add three more exchanges – Huobi, Gemini and Itbit, making a total of 9 exchanges.
"Updated indices will reflect higher weights for exchanges with higher volumes. This approach will ensure that BitMEX index prices are more representative of the trade price per trade than per exchange," said BitMEX.
Notably, BitMEX currently does not include Huobi for its indices weights, and on Nov. 22 it will get weight for 7 out of BitMEX's 9 indices.  Gemini and Itbit, on the other hand, have also been added with minor weights for two of its indices – .BXBT (Minutely Bitcoin Price Index) and .BETH (Minutely Ether Price Index).
BitMEX's .BXBT index is the most important index, as it is used for the exchange's bitcoin perpetual swap contract. Huobi is notably not included in this index. Currently, Bitstamp, Coinbase and Kraken, each have a 33.33% weight in the index. From Nov. 22, Gemini and itBit will also get weight in the index at 6.19% and 4.20%, respectively. Accordingly, the weights of Bitstamp, Coinbase and Kraken will get changed to 26.81%, 44.44% and 18.36%, respectively.
The current weights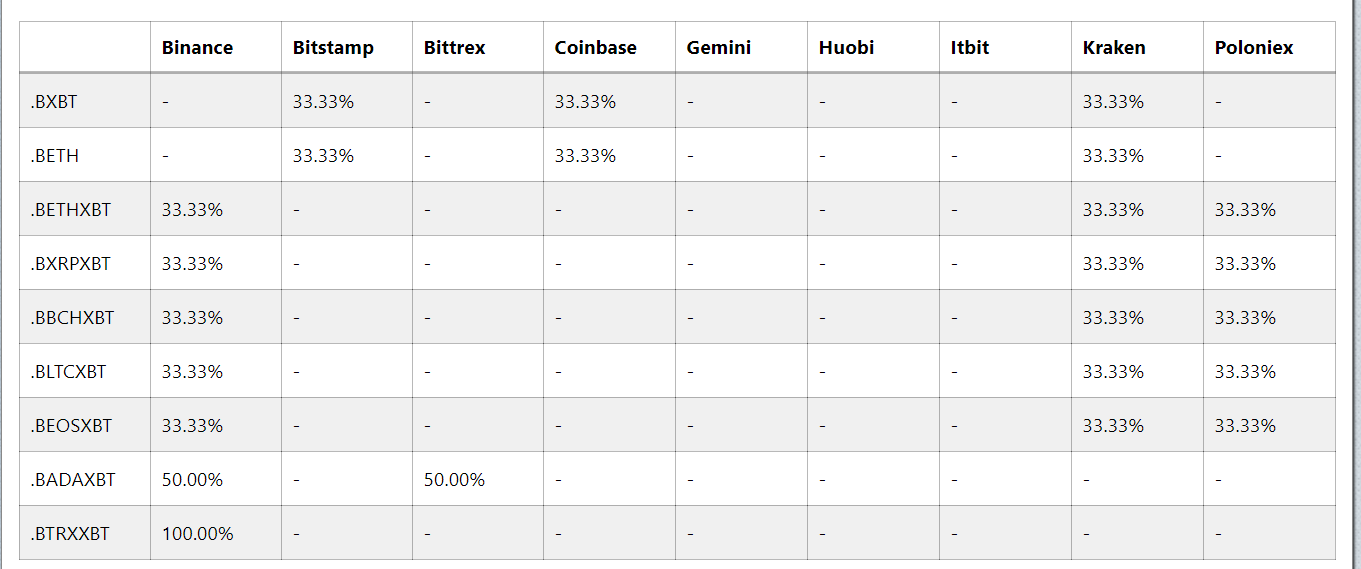 Source: BitMEX
The updated weights from Nov.