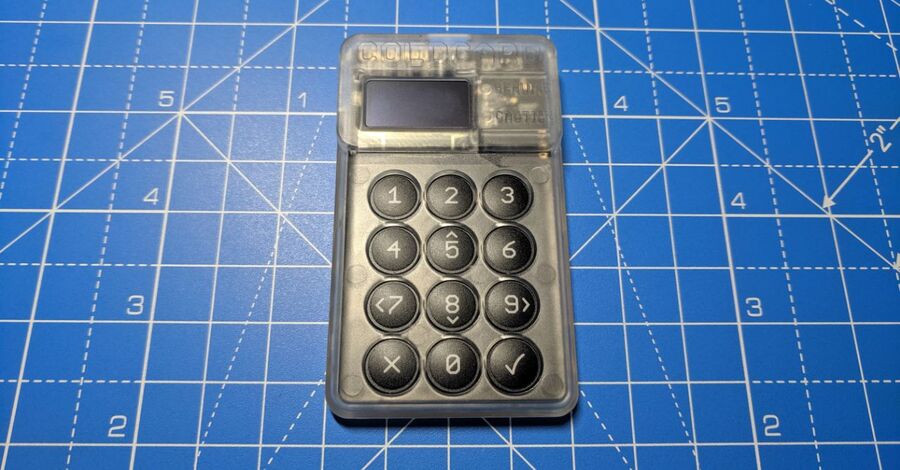 Hardware wallets are widely considered to be the most secure way for individuals and small businesses to store their cryptocurrencies safely.
Since the first cryptocurrency hardware wallet hit the market back in 2014, there has been an explosion in both the number and types of hardware wallets on the market.
Most of these follow the same formula: support as many cryptocurrencies as possible and offer a good mix of usability and security. But there's one hardware wallet that takes a different approach—that's the Coldcard Mk3, released back in October 2019 by Coinkite.
Coldcard Mk3 review: Design and build

The Coldcard (middle) is larger than the Ledger Nano X (left) but smaller than the Cobo Vault (right). (Image: Decrypt)
The Coldcard adopts a different design philosophy to most hardware wallets. Rather than opting to remain as small as possible, Coinkite has instead emphasized usability over portability.
The device is around the same size as a credit card, measuring in at around 88 mm x 52 mm x 9 mm, but weighing just under 29g. The Coldcard's case is constructed out of clear plastic, putting its internals on display, and it feels robust enough to take knocks and bangs without damaging its innards.
The Coldcard wallet resembles a small calculator, with 12 buttons and a small 128×64 pixel OLED screen on the front, a microSD slot on the rear and a micro USB port on the top. Unlike many other hardware wallets, the Coldcard Mk3 does not feature a built-in battery and instead draws power through its micro USB port.
While it won't win any awards for its design, the Coldcard Mk3 is certainly not unattractive and is a good blend of form and function.