"The whole Internet can work this way," said Twetch CEO Josh Petty in his presentation at the CoinGeek London conference. It was a typically bullish sentiment from the two days in which dozens of speakers demonstrated their confidence in the momentum building around Bitcoin SV (BSV).
Superficially, that momentum was felt in the more than doubling of the number of attendees since the last conference in Seoul six months ago. Even more superficially, it was seen the extraordinary width and clarity of the screen at the back of the stage—designed to be viewed by creatures with at least three eyes.
More importantly, it was noticeable in the way BSV technology and businesses were discussed on stage. Petty announced new features for Twetch, taking the social media app to a slicker, more user-friendly form: "Everything you touch and feel is going to be a microtransaction," he said, with "no more swipe".
Familiar faces from previous conferences spoke with new certainty about what they were doing and had new achievements to report and announcements to make. Jack Liu of the RelayX wallet provided a moment of drama when he unveiled the new look of his app—which is essentially a blank screen, the idea being that your camera opens to scan a QR code. More broadly, users will access Relay through other apps, making the integration of money functions almost invisible for users.
Newcomers, such as Thomas J. Lee, from Fundstrat, endorsed and elaborated themes previously only heard from those inside the Bitcoin SV tent. With detailed financial graphs, he predicted a "parabolic moment" when institutions get serious about crypto—similar to the effect on Tesla's share price when Wall Street started paying attention to its potential (below):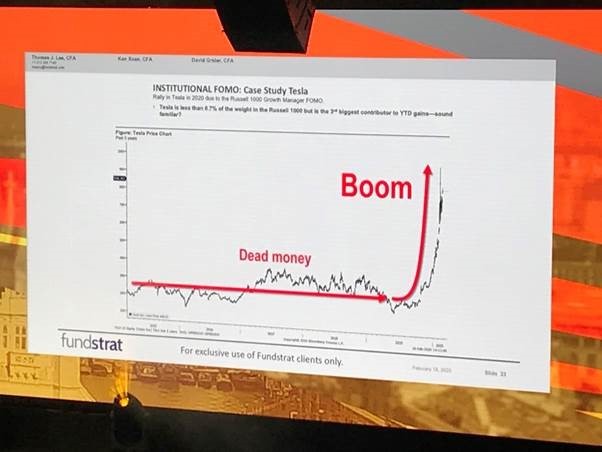 Lee highlighted BSV's transaction growth over the past months and the potential of its nascent businesses as evidence of his prediction that the growth of BSV would be more than another speculative bubble.