Bexplus is a popular marginal exchange, which allows users to trade crypto futures with 100x leverage. However, this August Hong-Kong based company introduced platform's new lending feature: BTC-Wallet with annual interest. Here's a review of new lending service. 
According to Bexplus, while platform is a marginal exchange where trading requires some knowledge and certain experience in trading, the BTC-Wallet is designed especially for traders, who is new to leveraged trading and don't want to take high risks. 
Bexplus BTC-Wallet is independent from trading on the platform: bitcoins in Saving Account won't be considered as margin, so even if you have open positions, your assets in the Wallet are safe. 
Platform offers various annual interest rates depending on the amount you deposited, it can range from 18% to 30%, see the full conditions below:

Monthly interest can be calculated according to this formula: (S*I/365*30)=MI, where S is a sum of your deposit, I is an interest and MI stands for monthly interest. So, if you deposit 10 BTC, your monthly income will be (10*30%/365*30)=0.24BTC. 
Interest reaches your account on the first day of each month, but you can withdraw your funds anytime and still get interest for the days you kept in the wallet in the beginning of next month.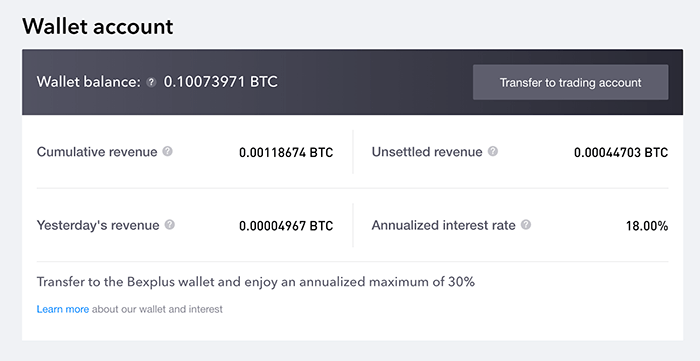 In your profile on Wallet page you can check the interest you've received in total (Cumulative revenue), the amount to be paid in next month (Unsettled revenue) and the amount of interest you received for 1 day before (because interest is calculated from D+1 (GMT). D refers to the natural day of the BTC transferred into the wallet.)
What are Bexplus BTC-Wallet pros compare to its competitors?