Last Thursday the Bitcoin price dropped heavily, reaching five-month lows of around $7,300 per coin, bouncing up to almost $10,500 the next day and making an incredible 30% growth on the stagnant market. After reaching the highest mark Bitcoin returned to $9,000. At the press time BTC is changing hands for $9,350.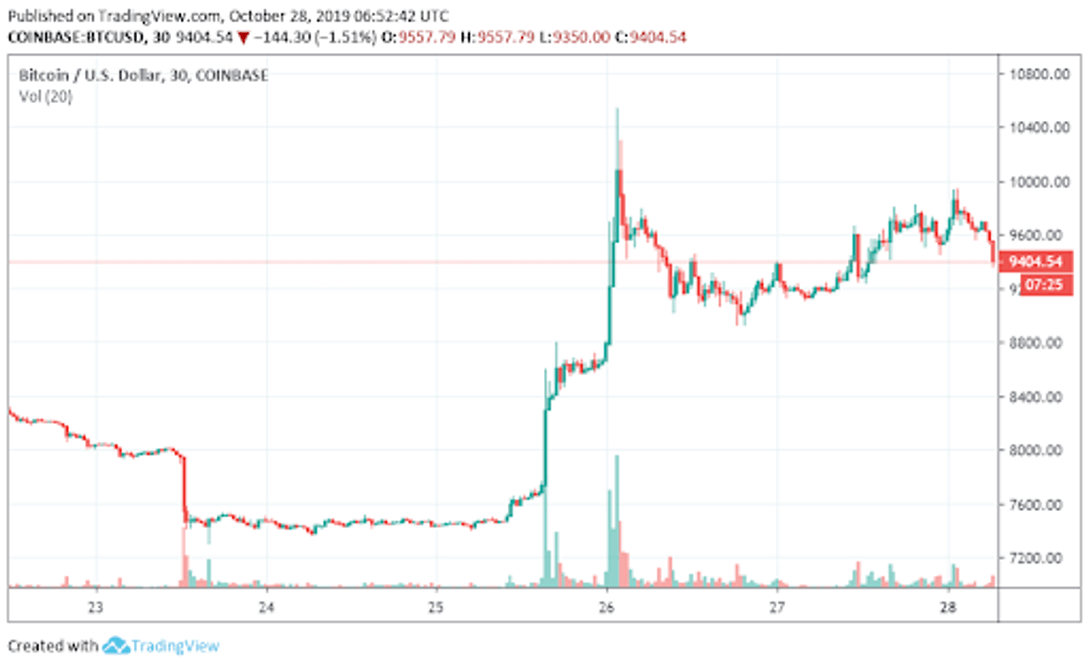 World's main cryptocurrency's price declined shortly before Mark Zuckerberg, CEO of Facebook, provided testimony regarding Libra to US Congress. Back in July Bitcoin's price spiked up to $14,000 amid the news on initiative of world tech giants to create an asset backed cryptocurrency. However, the proposal met challenges coming from regulators. 
Suddenly, good news came from China: on Friday, Oct. 25, it's President Xi Jinping called for the adoption of blockchain technology during the meeting of the Political Bureau of the Chinese Communist Party's Central Committee: "[It's] an important breakthrough for independent innovation of core technologies". 
China's positive official statement can largely contribute to Bitcoin's price growth, industry experts say. 

However, Friday's price surge most likely wasn't triggered from inside China, says Dovey Wan, founding partner of Primitive Ventures. That were western traders who drove the rally from $7,300 to $10,500. Tether's USDT wasn't premium on Chinese OTC markets, and the price on local Chinese markets remained unchanged right after Xi's announcement. However, price started to pump as the U.S. traders woke up and shared President's statements. 
Nic Carter, a partner at Castle Island Ventures in his commentary to Decrypt said that the brief spike to $10,500 and return to $9,000 most likely was due to massive liquidations on margin trading platforms, following opening of long positions to cover all the losses, which drove up the price of Bitcoin.